Many elderly individuals consider Lippia Alba as one of the most effective traditional remedies for common ailments. 
Known locally as Santa Maria, Lippia Alba is a flowering, perennial shrub native to the Caribbean and the Americas. It is a popular member of the Verbenaceae family, with several scientific studies confirming its medicinal benefits. 
This article will take a closer look at this well-known aromatic herb, its uses, benefits, and some precautions to keep in mind before using.
Let's dive in!
What Are The Benefits Of Lippia Alba?
Lippia Alba is one of the most documented herbs from the Americas. Its medicinal benefits and applications have been researched extensively, confirming many of the claims made by traditional medicine practitioners.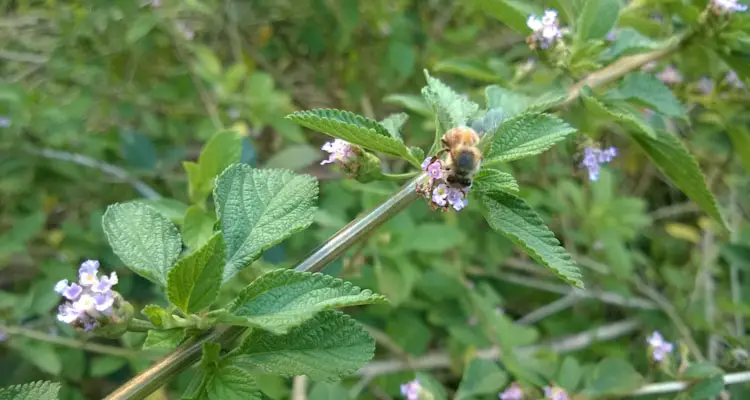 Lippia Alba contains many compounds such as linalool, citral, camphor, polyphenol, and limonene. Some of these substances are known for their antibacterial and anti-inflammatory properties.
It was used to treat various respiratory illnesses such as asthma and influenza. 
Many studies also point to its effectiveness in treating bacterial and fungal infections, with ongoing research into possible use as a remedy for arthritis. 
Surprisingly, these properties have already found commercial applications in shampoos made from Lippia Alba oil extracts and topical creams used to treat minor bruises and inflammation.
There are many claims that Lippia Alba can treat anything from headaches to depression and anxiety. It contains certain chemicals known to have a general calming effect.
However, one of the most important benefits is that Lippia Alba is available to just about anyone.
What Does Lippia Alba Look Like?
Lippia Alba has long, flexible, sprawling branches that interweave as they grow, hence the nickname Bushy Lippia.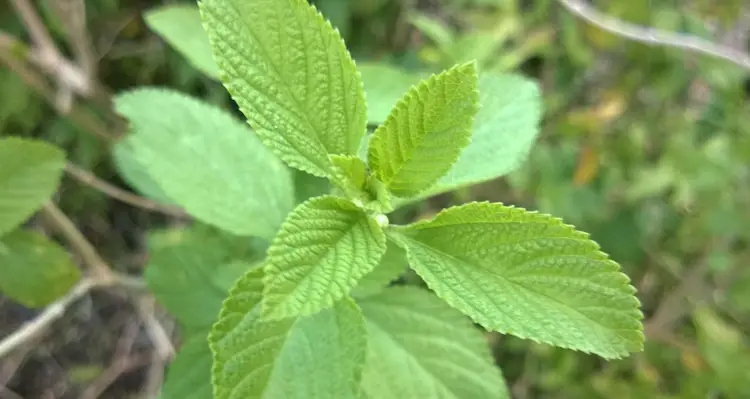 It has small, light-green leaves that grow opposite on the branches, with tiny pinecone-like flower buds at their intersection.
The leaves are relatively oval in shape, with a rough texture and serrated edges.
While flowering, the entire stem is accented with tiny, clustered white and lilac flowers, often visited by bees and other pollinators.
How To Use Lippia Alba
The entire Lippia Alba plant is used primarily for its medicinal benefits and tastes great.
Lippia Alba Tea
You can make Lippia Alba tea and enjoy its sweet, lemon-like flavor, with the added benefits of relief from congestion, headaches, and overall tension. 
Follow the instructions below to have a cup of Lippia Alba Tea ready in about 10 minutes. 
Add three to six Lippia Alba leaves to a pot of boiling water.
Allow to simmer for about 5 minutes, then remove from heat.
Cover pot and allow to steep for an additional 5 minutes.
Strain the steaming hot water into a cup and sip.
You can add some honey or sugar to your taste. However, remember that while this is a great-tasting tea, it can make you feel upset if brewed too strongly.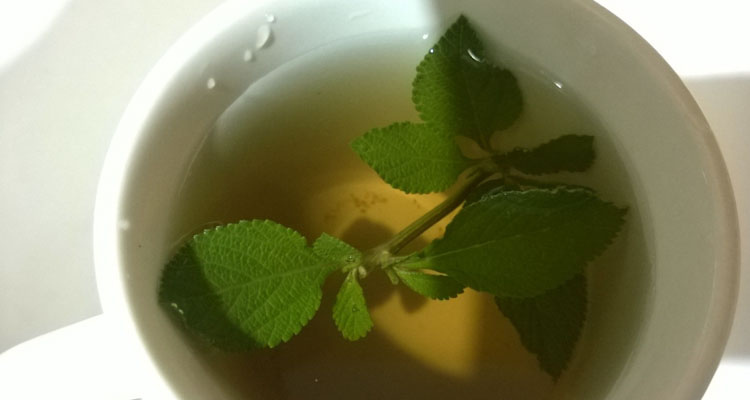 Lippia Alba Essential Oil
Essential oils are extracted from the dried leaves and flowers of the Lippia Alba plant through a process called steam hydrodistillation. 
Due to its concentration, it must be diluted before use. It can then be used as an additive in topical infusions and aromatherapy.
I have come across studies showing the consumption of Lippia Alba's essential oils to treat digestive issues and symptoms associated with type two diabetes.
However, this was done in controlled environments. As a result, you should consult a medical professional before attempting to use it in such a manner.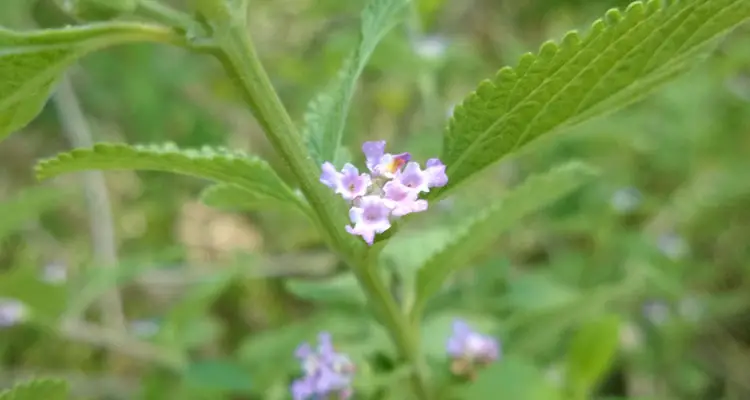 What Are Some Common Names For Lippia Alba?
Lippia Alba is native to the Caribbean and parts of North, Central, and South America. It is now also cultivated in Australia and India.
It has several local names, which vary considerably even within the same country.
| | |
| --- | --- |
| Name | Country/Language |
| Lippia Alba | Scientific Name |
| Bushy Lippia, Bushy Matgrass | USA |
| Feblès ou Melis | Haiti |
| Quitadolor, Menta Americana | Cuba |
| Toronjil | Venezuela |
| Santa Maria | Venezuela, Grenada |
| Poleo | Puerto Rico, Venezuela |
| Juanilama | Costa Rica |
| Orozul | Nicaragua |
| Brisée, Lamerik, Brizé | Martinique |
| Pitiona | Mexico |
| Lemon Verbena, Licorice Verbena | Common Names |
| Mastranto | Panama |
| Ti Bouch | Saint Martin |
Lippia Alba received many common names due to its scent or medicinal properties. In some cases, these names are not unique but share with many other aromatic herbs.
How To Grow Lippia Alba
A few years ago, an elderly gentleman gave me a piece of Santa Maria and instructed me to just stick it in the ground. 
He was correct! I now have an entire hedge from that one cutting, which grows without much attention.
Lippia Alba grows in just about any soil. Like any plant, it prefers moist, well-drained soil but thrives even in dry or relatively soggy soil. 
Lippia Alba grows well in sunny locations. However, the leaves seem to dry out a bit. They seem to prefer partial shade.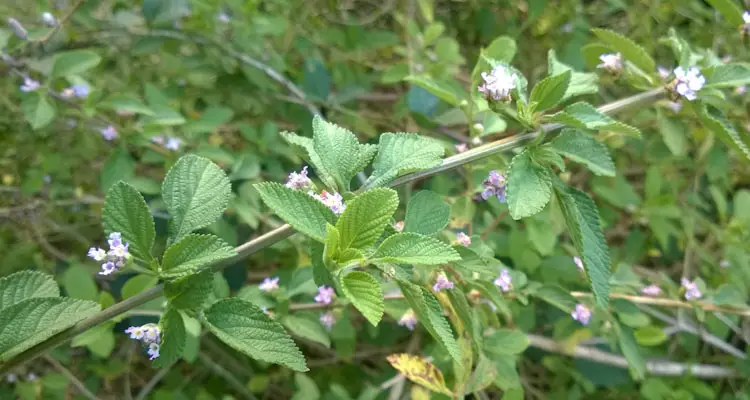 To grow Lippia Alba, you will need to get cuttings from a plant and stick it into the ground, as instructed by the gentleman.
Water the cutting daily during dry spells and occasionally after it shows signs of new growth.
Once established, Lippia Alba is highly resilient to climatic changes.
It propagates via the root suckers and just about anywhere the branches come into contact with soil.
Prune the plant occasionally to permit unrestricted airflow and encourage new growth.
Final Thoughts
Lippia Alba is a popular traditional herb studied extensively for its medicinal benefits and possible applications.
It grows freely in its native lands of the Americas and other countries where it was introduced.
Lippia Alba is a versatile herb occasionally used in food preparation, but mainly in traditional medicine to treat many common ailments, with ongoing studies to uncover its hidden potential.
Unlike many other folkloric medicinal claims, I was pleased to learn that, in this case, they are well deserved.
Related Questions
What Is Steam Hydrodistillation?
Steam Hydro-distillation is an extraction process in which water and steam are used to carry essential oils from plant materials. After the steam condenses, the resulting hydrosol separates from the pure oil in the collecting container.
References
Science Direct. Ethnopharmacology of Lippia alba. sciencedirect.com. Accessed February 2022
Wildflower. Lippia Alba. wildflower.org. Accessed February 2022
Holistic Living School. Lippia Alba. holisticlivingschool.org. Accessed February 2022
Garden. Bushy Matgrass (Lippia Alba). garden.org. Accessed February 2022
Gary Allen. The Herbalist In The Kitchen. books.google.com. Accessed February 2022
Brazilian Journal Of Microbiology. The Antimicrobial Efficacy Of Lippia Alba Essential Oil And Its Interaction With Food Ingredients. ncbi.nlm.nih.gov. Accessed February 2022