Sage is a versatile plant that is often dried and used in various recipes, traditional medicines, and rituals. 
It grows rapidly and must be pruned often to keep the plant healthy, resulting in more material than you can use at once.
Thankfully, you can dry sage at home by air-drying or using several kitchen appliances, most of which you may have at your disposal.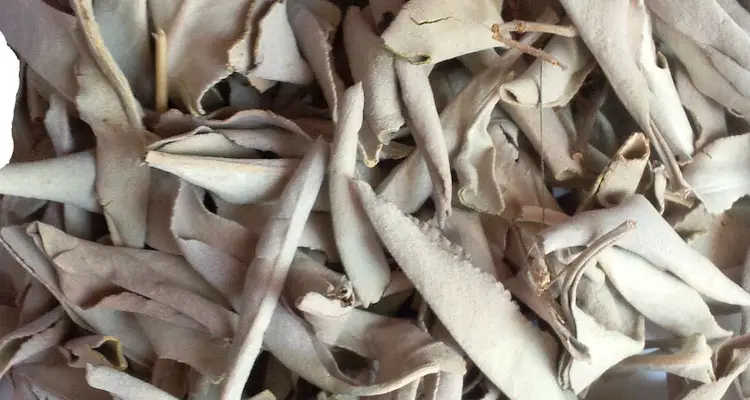 In this article, we will look at 4 simple methods you can use to dry sage, some of which you can start using today.
Note: You can use the links above to jump straight to the method that interests you.
Drying Sage With The Hang-Dry Method 
Traditionally, sage was dried by hanging and allowing them to air dry for a couple days. However, to pull this off, you'll need to ensure that it is warm and sunny outside, with relatively low humidity.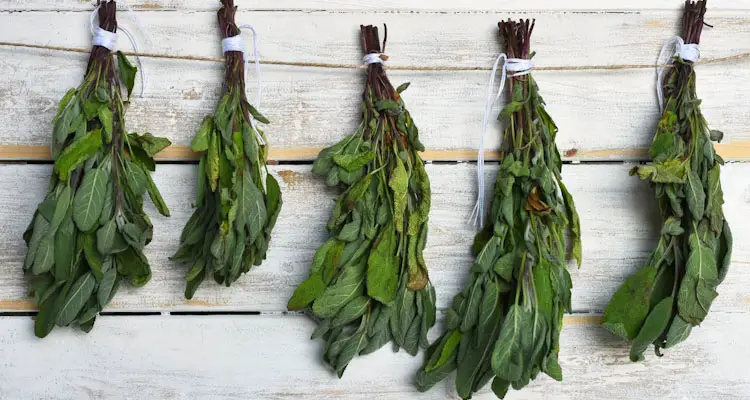 Follow the instructions below to dry sage using the "hang-dry" method. 
Wash and dry your sage thoroughly. 
Gather approximately ten stems of sage, and tie them together using a string.
Place each bundle of sage inside a paper bag.
Use a pen to make holes in each side of the bag. This will allow the air to circulate inside and dry out your sage. 
Hang your bags of sage upside down in a well-ventilated warm room, preferably one with good airflow. 
Remove your sage from their bags, and store them as desired after they have dried. 
Typically, your sage can take up to ten days to dry with this method. So, if you're in a hurry, we'd recommend using one of the following methods instead. 
Drying Sage In the Oven
If the weather outside is less than ideal for drying, you can use your oven. This method requires little effort and preparation but gives consistent results. 
To dry your sage in the oven, follow the steps below: 
If your sage is dirty, wash it thoroughly and remove any excess water before heating. 
Line a baking tray with a fresh sheet of baking paper, and preheat your oven to the lowest heat setting possible. 
Spread your fresh sage leaves evenly across the baking tray and place them in the oven for 20 minutes. 
Rotate your baking tray after the first hour, and leave them to dry for another 20 minutes, allowing some extra time if necessary, turning them periodically. 
Once dried, remove them from the oven, cool them on the counter, and then transfer them to your chosen container. 
Drying Sage In The Microwave 
Microwaving is the fastest way to dry sage but by no means the easiest. However, if it's done right, you can produce a small batch of dried sage in about 1 minute. 
Follow the steps below to dry your sage in the microwave: 
Wash your fresh sage in the sink, and place them in a paper towel to dry off any excess water. You can skip this step if your sage is already clean. 
Place a paper towel on your microwaveable plate, spread your sage leaves evenly on the towel, then place another paper towel on top. 
Place the plate in the microwave and "cook" for 1 minute at the high setting. Please remove it from the microwave and inspect it. Continue to heat your sage for ten seconds at a time if necessary. 
Once your sage is ready, please remove it from the microwave and leave it to cool on the counter for a few minutes. 
Drying Sage In a Dehydrator 
You will need to use a dehydrator if you have a big batch of excess leaves. This is often considered the safest and most reliable way to dry your sage, but it requires special equipment.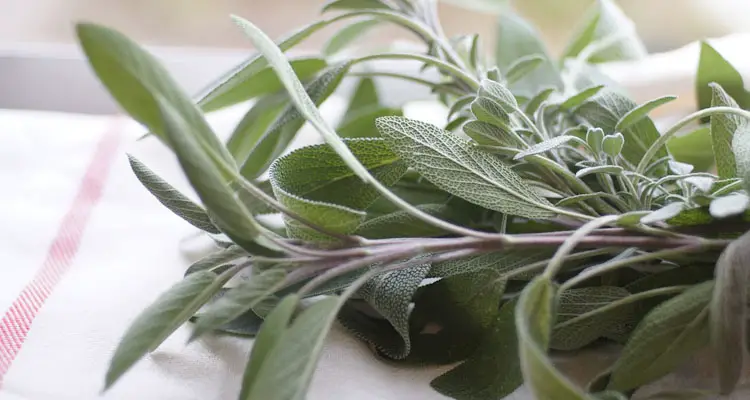 Here's how to dry your sage in a dehydrator: 
Wash your sage leaves in the sink, and soak up any excess water before heating. 
Place them on the rack or screen of your dehydrator. Make sure you leave plenty of space between your leaves so the air can circulate. 
Place your rack or screen in the dehydrator and set the temperature between 95-115 degrees Fahrenheit. 
Leave your sage in the dehydrator until it's completely dried. 
This can take anywhere between 5-15 minutes, depending on the heat and how many leaves you're drying. 
Remove your sage from the dehydrator and leave it to cool. 
How To Test For Dryness
After drying your sage, transfer them to a dark, airtight container for safekeeping. You will need to test them periodically for moisture within the first week or two of storage.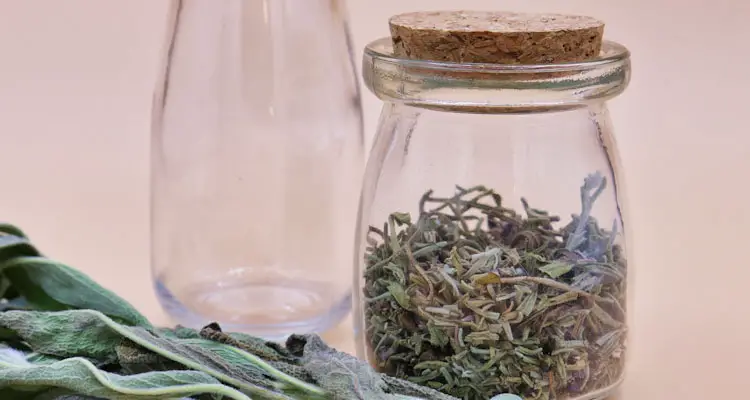 To do this:
Place the dried leaves into the container, close tightly, and move to a warm dark loam location.
Look under the lid about 7 days later. If you see any droplets or signs of moisture, remove the content and dry for a little longer.
Remember, moisture in the container will encourage mold growth so pay close attention to your leaves, especially within the first week or two of storage. 
Note: You should heat your dried leaves in the oven for about 10 minutes if you use open-air methods. This is to ensure you destroy any critters from the surface.
How Long Does Sage Last? 
Dried sage can last anywhere between one and three years at room temperature. If you place it in the freezer, you can expect it to stay up to 6 months.
On the other hand, you can keep fresh sage in the refrigerator for up to 14 days before it needs to be thrown or dried to increase its longevity. 
Final Thoughts
Sage has a variety of practical and decorative uses. It is easy to grow and can be stored for years if dried properly.
If you have excess fresh sage, you can dry them using a traditional hand-dry method or your favorite kitchen appliance.
However, you can expect the smell to fade regardless of the method. You should consider refreshing your stock often.
References
University Of Minnesota Extension. Preserving Herbs By Freezing Or Drying. extension.umn.edu. Accessed December 2022
Iowa State University Extension. Drying Herbs. extension.iastate.edu. Accessed December 2022